Pop culture has been getting more and more right for ladies of all shapes and sizes, but sometimes it can still feel like we tall babes are invisible. Not to mention basically anyone who doesn't fit the mold of perfect femininity – i.e. small, passive… You get the picture. Sometimes it feels like the tall girl problems never end.
So let's take a moment to highlight those occasions that have put tall babes front and center, not shunted them to the sidelines or made them the butt of the joke. Read on and bask in the glory of five pop culture moments that have celebrated musicians, Hollywood celebs, and even dolls with legs (and confidence) for days.
Five Times Pop Culture Put Tall Babes in the Spotlight
Tall Barbie
Okay, so you're probably past Barbie-playing age, so you might have missed this one. But sure enough, in 2016 Mattel dropped Tall Barbie into their beloved – but not always inclusive – toy line. Updating a doll that has long represented a narrow image of the feminine ideal with a broader range of what beauty looks like was a major win for tall babes.
Taylor Swift at the VMAs and Beyond
Love her or hate her, Taylor Swift never apologizes for her height. While that famous photo of her presenting an award to Bruno Mars at the 2013 VMAs is the most obvious example, Taylor Swift doesn't just save the heels for special occasions. Whether she's performing, slaying at the VMAs, or just hanging out, you can spot her rocking this tall girl "no-no" no matter the haters.
That's super inspiring when tall girls are usually told this classic feminine shoe style is off-limits.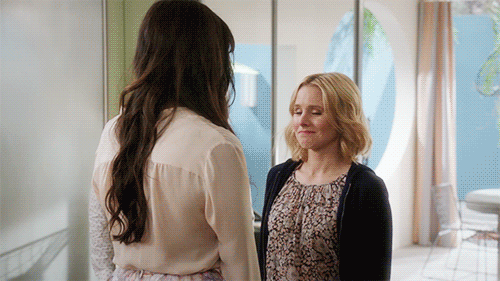 Tahani Al-Jamil on The Good Place
The Good Place's Tahani is the butt of her fair share of tall jokes, including a second-season gag in which her version of hell includes a very short soulmate. But overall, the show does a great job of celebrating Tahani's height by allowing her to flourish onscreen as a funny, flawed, fully-developed character.
Bonus points for all the love Eleanor showers on Tahani's height. Eleanor actually tends to point out Tahani's height as an asset to her femininity, rather than something to be overcome or ignored. That's refreshing for tall girls who are used to having to prove their girliness. And yes, even Eleanor knows tall girls give "amazing" hugs!
Zendaya in Spider-man: Homecoming
So Zendaya's Spider-man character – a nod to the original "MJ" with her own cool, rebellious twist – may not have had the lead love-interest role the rest of us tall babes dream of. But watching Zendaya's MJ take on school and parties with total confidence – with no tall girl problems in sight, and all alongside much shorter co-star Tom Holland – gave the inner tall teenage girl in all of us something to squeal about.
Here's to hoping this mega-talented Disney-icon-turned-Hollywood-star makes way more tall girl waves in the near future.
Basically Anyone Who's Ever Dated Tom Cruise
From Nicole Kidman to Katie Holmes, tall ladies keeping towering over Tom Cruise – and giving the rest of us some serious dating inspo. In a dating world full of stereotypes demanding that women fit into a narrow image of what's "feminine" and what's not, it can feel super discouraging to constantly be wondering if you should add those extra inches by wearing your favorite pair of heels to a first date.
It's hard enough to find the right match even when you don't have to worry about putting off a potential bae with your height. Tall babes dating shorter guys show that there are dudes out there who can get over themselves and appreciate you for who you are.
So next time the endless #tallgirlproblems have you feeling the struggle, remember these pop culture moments that let tall babes shine. And don't forget to check out what's new in tall women's clothing at Alloy Apparel, where tall babes are always in the spotlight.
1,841 total views, 1 views today