Spring means it's time to get out and get moving, and there's no better trend for the season than athleisure. If you're unfamiliar with the term, "athleisure" is a combination of "athletic" and "leisure" and refers to sporty looks that are stylish yet comfortable.
Athleisure outfits are perfect for activities like yoga or to wear to a chill #SundayFunday brunch with your squad. Often centered around joggers or leggings for tall women, athleisure looks have been embraced by all walks of life.
So how do you create an essential wardrobe of athleisure outfits? Athleisure is a little different than just dressing for the gym or throwing on sweatpants to relax at home. The key to rocking a truly great athleisure look is to make sure your pieces are stylish and fit you well. Our favorites take wardrobe staples like leggings for tall women and transform them into chic outfits you could even wear to the club!
Here are seven essential items to build out your athleisure wardrobe this spring:
Leggings
Leggings: They're not just for yoga anymore! At Alloy Apparel, we are big fans of leggings for tall women. Whether you layer them under a skirt or dress in colder weather, throw them on for Pilates, or rock a pair with boots and a long top, leggings are among the most versatile wardrobe items we can think of.
When you're developing your athleisure outfits for this spring, use leggings as a foundation to build on. Leggings are available in a huge selection of colors and patterns, so you're sure to find some that fit your style.
For an athleisure look, we recommend sticking with black or slate gray to create a neutral template for pairing with more colorful tops and sneakers.
Joggers
Joggers are one of our favorite fashion inventions of the past few years. While sweatpants are extremely comfy and great for working out or lounging, in the past, you wouldn't want to be caught wearing them outside the gym.
Joggers – a type of sweatpants that taper at the ankle – are the stylish solution embraced by celebrities and fashionistas all over.
Joggers are another key item for athleisure. Wear joggers along with sneakers or athletic sandals, a loose t-shirt or hoodie and a denim jacket to create athleisure outfits that will really stand out this spring! As with leggings, we recommend choosing darker neutral colors like black, gray and navy blue.
Sports Bras / Crop Tops
For a flirty spin, include a cute sports bra or a crop top in your athleisure look. Many brands now make sports bras and athletic crop tops that look amazing and come in patterns that match their selection of bottoms. Plus, the warmer weather is a great time to start showing off some body confidence.
We also love the look of a sports bra under a boxy, exposed-shoulder tunic or sweater. Experiment with playful styles of jackets such as a faux-leather moto jacket, a puffer jacket or a cute arctic vest.
Sports bras and crop tops are also highly functional if you're planning to wear these athleisure outfits to a spin class or dance.
Relaxed Tees
In contrast to the form-fitting look of a sports bra and leggings, for an athleisure look, we like to play with looser layers when it comes to tops. A relaxed-fit tee, a vintage muscle shirt, or a loose-fit raglan shirt are all great options for an athleisure approach to your spring wardrobe.
We love solid colors or graphic tees with floral prints, vintage artwork or typography. A relaxed tee can be a way to add more personality to your athleisure outfit and show off your unique personal style. You'll look stylish and feel comfortable – the best of both worlds brought together.
Jackets & Vests
When it comes to outerwear, athleisure can incorporate a wide variety of styles. The key to choosing jackets and vests is to go for style as well as practicality.
As the weather warms up, you may wish to wear lighter layers like jeans jackets or canvas military anoraks. However, hooded puffer vests and winter jackets can also look amazing over the rest of your athleisure clothes.
Jackets, vests and other outerwear are another opportunity to showcase your personality as you curate your look. We like to select colors that accentuate or heighten other pieces in the outfit. For example, a white jacket to match the white striping on a pair of joggers, or a red vest to match red sneakers.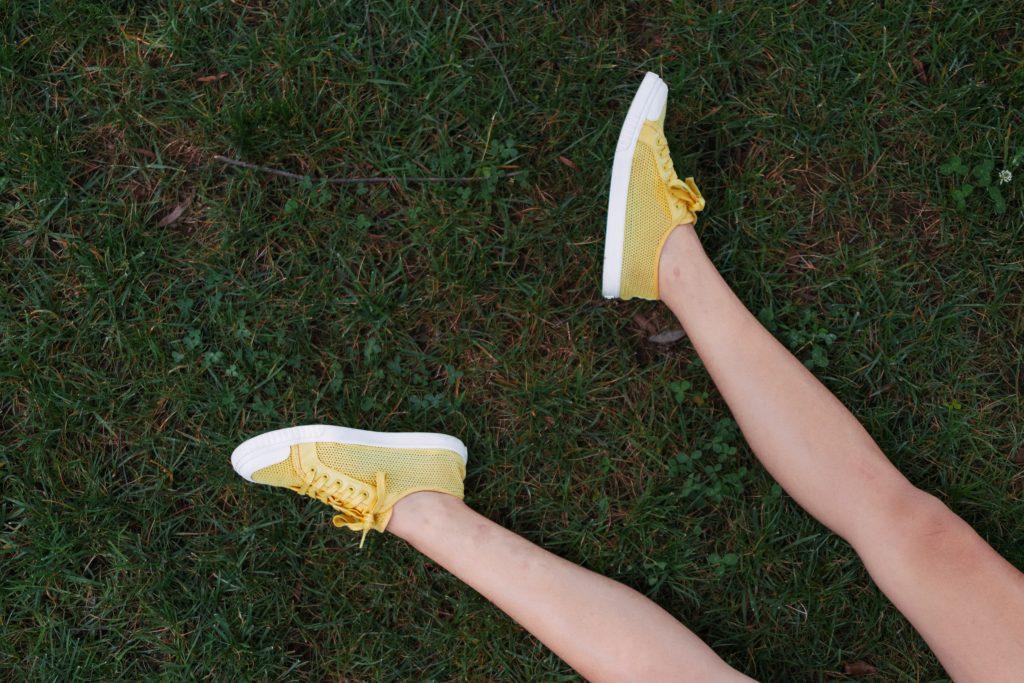 Footwear
Finally, there's footwear. Overall, the athleisure style lends itself well to sneakers, retro tennis shoes and canvas slip-ons like classic Vans. We love these shoes for their cute looks as well as their comfort and durability. Plus, many designers are now creating athletic shoes that don't just feel amazing, they look stylish and trendy, too.
Athleisure footwear to pair with your leggings or joggers can also include sheepskin ankle boots in black or dark gray. We love colorful footwear, but for the sleek, ultra-modern look of an athleisure outfit, we recommend choosing carefully.
If you're going to wear sneakers that are really bright and flashy, try making them a "statement piece" to accompany an all-black outfit.
Alloy Apparel Loves Athleisure
Ready to build the foundation of your athleisure wardrobe, or just putting on the finishing touches? Check out our outerwear, joggers, and leggings for tall women for casual, stylish looks built for your unique kind of gorgeous.
1,427 total views, 1 views today