How do you find the right fit when you're shopping for pants for tall women? With pant styles ranging from tall high waisted jeans to low-rise bootcut, the selection seems endless. It's hard to believe there was ever a time where women only wore dresses and skirts!
You can find pants for every outfit or occasion, from sophisticated to casual. Each cut offers a unique style for your lifestyle and body type. But how do you know what to choose? What tops should you pair with different cuts? And more importantly, what are the best pants for tall women?
At Alloy, we strive to make shopping simple so you can focus on living your best life. So here's everything you need to know about your pants' cut:
High-Waisted
High-waisted or high-rise pants get their name because the top hem usually fits around your belly button, or sometimes a bit higher. Although we consider this "high," it's actually your body's natural waistline — in the fashion days of yore, this is how all pants were fitted.
High waisted pants have made a big comeback in recent years, including our favorite tall high-waisted jeans. Whether worn with a skinny leg or a relaxed fit, we love high-waisted jeans because they streamline your midsection and butt. Pair high waisted pants with shorter, boxy tops or loose sweaters.
Low-Waisted
Low-waisted or low-rise pants fall well below your belly button. The actual hemline can vary widely between different brands, but it's usually across your pelvic bones where your torso meets your hips. Low waisted pants create a more balanced look between your upper and lower body, so they make an excellent choice for pants for tall women who have most of their height in their legs.
Another versatile option, you can style low-waisted pants or jeans for almost any look. These pants are usually available in a wide range of colors. We're fond of low rise black skinny jeans, which look amazing with ankle boots and a longer white blouse. Low waisted pants are also the perfect pants for showing off your cute new belt.
Skinny
After you've decided whether you prefer high-waisted or low-waisted pants — or mid rise, which offers the best of both –– it's time to consider the cut of your pants' leg. Skinny pants have become a very popular choice among fashionistas from all walks of life. Like the name suggests, skinny pants have a very narrow cut that hugs your legs very closely.
But don't be fooled by the name. You don't have to be skinny to rock these pants. Skinny pants are often made with lycra or other stretchy material, making them a hybrid between pants and leggings. This allows skinny pants to hug your curves in all the right places! We love to combine skinny tall high-waisted jeans with tall boots, a sleeveless top and a leather jacket to create a timeless, sophisticated style.
Straight
Next, we have straight legs. Straight leg pants for tall women are much looser than skinny pants, yet still slim and narrow. They often fit snugly around your hips and thighs, then give you more room around the calf and ankle. This creates a smooth, balanced outline that works well with different body types.
Straight leg pants are the unsung hero of fashion — they're not as visually striking as skinny or bootleg pants, but their neutral cut means you can wear them with virtually any outfit. Try wearing straight leg pants with flats or sneakers, a vintage tee and a denim jean jacket.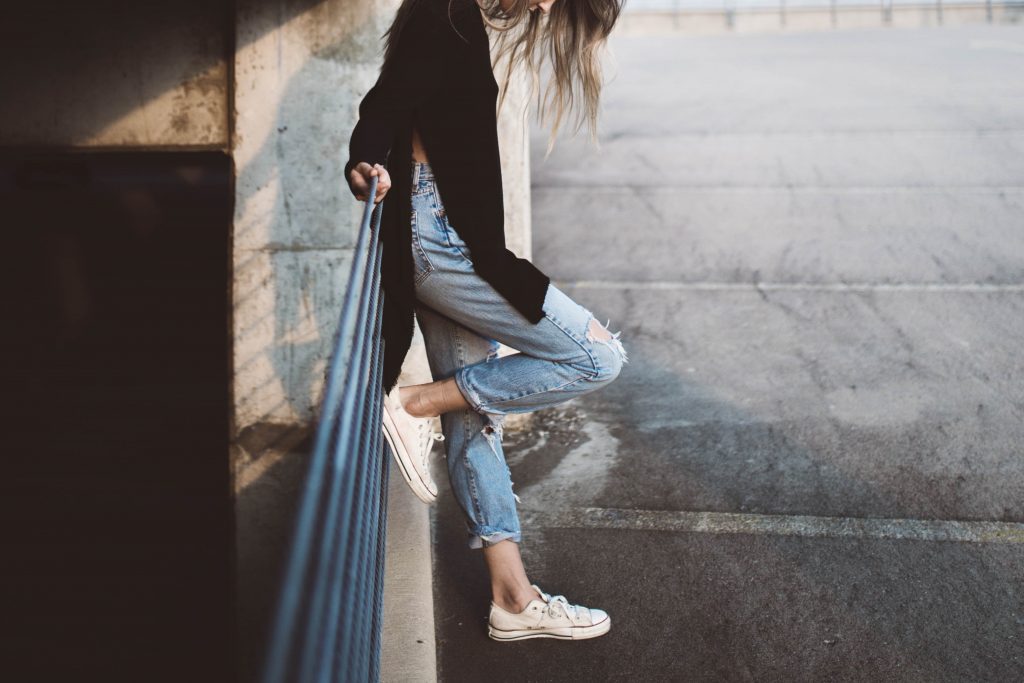 Bootcut, Flares & Relaxed Fit
If you've ever gone shopping for tall high-waisted jeans, chances are you've encountered lots of bootcut, flare and relaxed fit styles. It's obvious that these pants have a looser cut than skinny or straight leg, but sometimes the difference between each of these baggier pants can be difficult to detect.
Bootcut is the slimmest. These resemble a straight leg cut, except they're much wider at the bottom of the leg so you can wear them over boots instead of tucked in. Flares, meanwhile, are a unique throwback style resembling more of that classic "bell bottom" shape from the 70s. These flirty, eye-catching pants emphasize your sensual curves and pair well with a tight tank top and open-toed shoes.
Lastly, we have relaxed fit. Relaxed fit pants for tall women — which also include a newer, more androgynous style known as the "boyfriend" — are looser fitting around the hips, thighs and below the knee. Note that these pants aren't meant to look like you're wearing them two sizes too big, so make sure they're snug around your waist to ensure a proper fit. We love relaxed fit pants for casual outings or hanging around the house, so they're the perfect choice for less formal outfits.
The Perfect Pants for Every Tall Woman
Remember to have fun with your fashion and use your clothes to express yourself! We recommend stocking your wardrobe with different pant cuts for different styles and moods. But whether you choose tall high-waisted jeans with a skinny leg or low-rise flares, your pants should make you feel amazing! Love your clothes, love yourself.
1,567 total views, 1 views today