Meet Abby Griffith (@TallGirlsGuide). She is a blogger providing inspiration for other tall women. Abby is 6'3 and like so many of us she struggles to find the right clothes. Get to know her better through our interview with her below. Check her out on Instagram and YouTube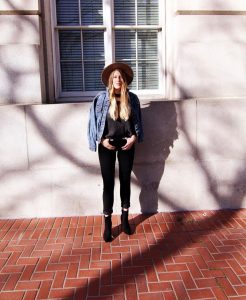 Tell us a little bit about yourself?
Hello! My name is Abigail Griffith but everyone calls me Abby! I am a Senior at San Francisco State University. I am studying cinema with an emphasis in screenwriting, I love to write and create and hope to one day make it my full time job. I have always been an athlete, I rowed crew at the University of Oklahoma for two years and then two years of Volleyball for SFSU. I just finished my athletic career and I am now just a normal student! So crazy! Oh also I am 6'3!
What do you love about being tall?
I think it is extremely unique, in a society where everyone is trying to stand out you have this automatic definer. I think it is extremely beautiful to be tall, there is a reason models are tall! I love the ability to pursue any sport I want as well as never having to rely on anyone else while shopping at the grocery store.
What was the biggest struggle growing up and how did you overcome it?
When it comes to being tall the biggest struggle I had was trying to fit in. Being tall is unique, in a time in my life when all I wanted to do was fit in, it was a definer. It changed in high school when I realized that there was nothing I could do about it, so why not embrace it? It may sound dramatic but it is the truth! I realized I have a choice to either love it or hate it all my life so I chose to love it. Soon, I realized I was being silly. Being Tall is THE BEST!
What would you tell your younger self?
DON'T slouch and walk with confidence. Being tall is who you are, don't try and change that! 
You are beautiful and unique! OWN IT!
Do you have any dating advice for us tall girls?
I wish I had good advise on this topic! I am still figuring it out haha one thing I think is valuable though is knowing what you want. If height is extremely important to you then awesome! If it isn't then it is important to know that, and this goes for all aspects of dating. Know what you want in life! Kids? Religion? Politics? Work? Some of them will matter to you and some wont! But these are good thing to know when getting into it!
Describe your personal style?
Well, today I am wearing cute workout clothes and yesterday I was in heals! I think I am a mix between trendy and workout chic!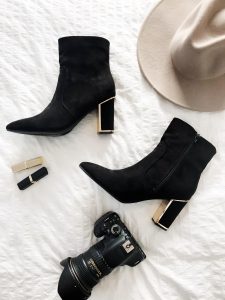 Who is your fashion inspiration?
I don't know if I have a specific person but I love the 70's! Bright skirts, healed booties, and striped sweaters! I couldn't love that clothing era more!
What are your favorite styling tips for tall women?
Get some clothing staples! A cute skirt and a great pair of jeans will make your wardrobe so much easier! You can mix and match tops and shoes but you should always a few good staples.
Do you have any favorite blogs?
I love the Alloy blog! But mostly I follow people on Instagram, vegan and lifestyle influencers. I have not found many trendy tall girl blogs or Instagram accounts that I think really shows how awesome it is to be tall! That is why I started @tallgirlsguide.
How do you shop for tall clothes?
I think if you want something that truly fits you have to shop a tall girl brand like Alloy! Before I found tall girl brands I would shop plus sizes in stores like forever 21. It would be long enough but it wouldn't fit! As time has gone on I can look at something and know if it will fit or not, and I got there by trying everything on! So don't be afraid to be creative and try things on, but know that if it wasn't meant to fit a tall girl it probably wont.
What's in your Alloy shopping cart?
I am in love with all of the shoes! And I have my eye on this floor length flower pattern romper!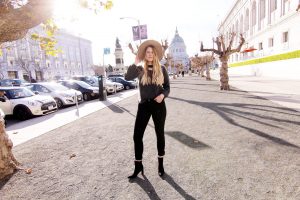 Thanks for chatting with us Abby! Shop her look below
5,678 total views, 2 views today