Whether you love them or hate them, skirts and dresses can be a conundrum for us tall ladies, since they – like us! – tend to be defined by their length. The good news is, as a tall babe, your long legs can flaunt almost every style.
But beyond just tracking down skirts and dresses in the world of tall women's clothing, there's a lot to figure out when it comes to your body, personal style, and even age. The mini skirt that got all the compliments at the club is not going to get the same kind of attention at work. So how do you choose? From the mini-mini skirt dilemma to finding the perfect tall maxi dress, we've got you covered with our ultimate guide to skirts and dresses…
Mini Skirts
We all know the mini skirt. In fact, as a tall babe, you might have a love-hate relationship with it. The fact is, rocking a mini skirt is all about environment, and finding the right length.
That's right – not all minis are made equal! Most mini skirts famously end around mid-thigh, but if you're taller than average, it can feel more like the top 1/3 or even 1/4 of your thigh. Mini skirts are supposed to be sexy, but not that sexy! If you've ever found yourself in a dressing room wondering how that adorable skirt you just tried on could possibly fit perfectly around your waist but still not cover your butt, we see you. The #tallgirlstruggle is real.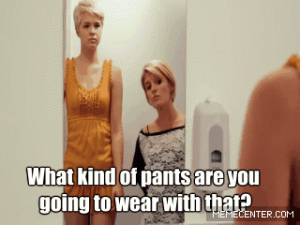 Your best bet is to opt for slightly longer cuts, low waist mini skirts that give you a little more leeway with how the skirt falls on your hips, and – hear us out – pencil skirts. Especially for older or working women, the pencil skirt is every subtly sexy woman's secret weapon. Falling just above the knee, it's a
perfect example of the concept of less-is-more, hugging your legs and butt without showing off too much. (It's also the best option for the office!)
Still, if you're all about showing off those long legs – and why wouldn't you be?! – but worry about flashing a little more than you want, make tights and leggings your best friend, especially for the colder months. How to Wear It: Show off your tall girl figure with a knee- or thigh-high boot pairing. Mini skirts are practically made for them!
Midi Skirts
From skirts to dresses, 2018 has been the year of the midi – but what does that mean? It's basically somewhere in the middle between the mini and maxi. In other words, the hemline on midi skirts and dresses should fall right around the slimmest part of your calf, about halfway between the knee and
ankle.
While you might not want to rock this length of skirt at the club, we have to admit we get the hype  around the midi. Because it's both flattering and somewhat modest, it's the perfect choice for an afternoon with family, a casual work event, or, if you pair a skirt with a sexy blouse or find a midi dress
with a low-back top, even a date! Just make sure your midi skirt or dress ends around the slimmest part of your calf – if it hits mid-calf, where your leg is widest, it can make your legs look shorter or "stumpier" than they are. Tall babes can't
have that!
How to Wear It: Low heeled sandals or booties work well to keep your legs looking long and slim, but since you're blessed with long legs already, you can get away with flats and stylish sneakers for a more casual look.
Maxi Skirts
At Alloy Apparel, we may be a little biased, but we say long live the tall maxi dress – pun 100% intended. And while we think all ladies should rock whatever styles they love, no matter their height or body type, we gotta say – the maxi is practically tall women's clothing by nature. Your long legs can carry the length of a maxi skirt or dress, and you almost never have to worry about hems dragging across the floor. Like the midi, you might not want to break out your tall maxi dress for every occasion. It can seem too formal for the office, and too conservative for a night out. But the thing about maxi dresses is that when they're right, they're suuuper right – think shopping on a fall day, a cool cultural event around town, or a casual dinner with the in-laws. A maxi dress or skirt is a great, subtle way to show off your amazing figure while still looking classy.
How to Wear It: Shoes that go well with midi lengths also go well with maxi skirts and dresses. Pair with comfy flats, ankle boots, or heels for a slightly more glammed up look. Alloy Apparel Has it All.
That's it, y'all – your guide to skirts and dresses, Tall Women's Clothing Edition. And while you're checking out with your stunning new tall maxi dress, don't forget to hit the rest of our online racks for jeans, dress pants, and leisure wear for tall and curvy women – because we've got tall and gorgeous
covered.
7,677 total views, 1 views today